Intense planning... kidnapping!
I call myself 13, a masochist lost in my time, a particular psychology, a passion for submission, a great devotion with sometimes a desire for bravery (reckless but not courageous) and these are the ingredients that make me up? And today, I'm going to tell you about my funny adventure. An adventure that's spicy, funny and full of uncertainty.
My pre-adventure begins in December 2022, with a crazy idea in mind: a life-size kidnapping. Role-playing is a segment of bdsm that I really enjoy, as well as the practices it can entail, and kidnapping is the ideal scenario for me, bringing together a lot of my kinks, and I was really looking forward to it. However, as this was no ordinary session, quite the contrary, I needed to find the ideal Dominatrix to guide me through this type of project. A Dominatrix whom I could trust completely, with carte blanche and eyes closed, and of course whom I knew.
My thought process was fairly short, even quick, and a name popped into my head: Madame Inanna Justice. We'd known each other for a few months, I'd read an article about a kidnapping she'd organized, and the various articles on her website on the subject could only reassure me. I felt I'd found the ideal Dominatrix, and Madame Inanna likes to be given carte blanche to construct scenarios. She loves being allowed to play with her great imagination, so this was ideal for me. Now I had to send her an e-mail to convince her of my desire, but luckily I already knew her well, and a regular client relationship had begun, which made things a little simpler.
And so my pre-adventure began in early December. I quickly received a positive response to my request, and a videoconference followed shortly afterwards to discuss it in a little more detail. Madame's great professionalism is to be noted. She warns me straight away that it could be physically and psychologically intense.
I take her warning on board and confirm that I'm ready, because I absolutely wanted to entrust this project to her. The psychology aspect fascinates me in this business. As far as pain is concerned, I'm still discovering myself, and it's difficult for me to define my limits with any precision. Would this scenario be a good opportunity to find out? I think it would. Madame was happy for me to propose this, without getting too far ahead of myself, and I think it could even be a turning point in our relationship.
I was showing her my complete trust and devotion, and at the same time, absolute carte blanche for this session. As time went by, we met again around January, and I had to think of several Dominatrix names that Madame had given me. Among the names, I recognized Maîtresse Blanche, with whom I also have a lot of fun, as well as Inanna, a regular patient who came for treatment.
Let's go back, I'd understood that she doesn't want to have fun alone. At the end of my reflection, 2 great names stood out Maîtresse Blanche (surprising?) and Maîtresse Syene. These are two great ladies of the BDSM scene, twirling with talent and great reputations, I could only dream of their participation. I forwarded the two names to Madame Inanna Justice, and in her return e-mail I read a great sense of satisfaction that Madame was going to be able to enjoy herself with 2 of her friends.
Of course, for me, this represents an even greater risk, even more spice, but what's safe BDSM? Mistress Syene and Mistress Blanche are quick to accept the proposal to join this scenario, now that all the lights are green, let's go? Not really, this type of session takes time to prepare on both sides (Domina and sub), so patience is required. The other side of the coin isn't always rosy, and then you snap your fingers and the session arrives. I'm going to write down the reasons for another reality. The first reason is time! It's so complex to find a time slot for everyone to be available, and then the money (for the sub).
Ah yes, money! I love venturing into slippery terrain like this. Is money taboo, even in BDSM circles, and even more so when it comes to paying for Dominas? Since I like to walk on quills, I'm going to take a little time to digress for a moment, because I think it's important. As everyone knows, playing with professional Dominas costs money, and the longer the scenario, the higher the rate. But it seems only fair to pay for such a high-quality service, doesn't it?
They also have to make a living, eat, find somewhere to live, etc. So yes, organizing such a beautiful kidnapping requires money, especially when there's so much investment behind it. The price will depend on many criteria, so I'll leave you to your imagination.
End of parenthesis, I take note of the rate, I take into account the time. Unfortunately, it won't happen right away. We let some time go by, a very long time, until the beginning of July, when I send an e-mail back to Madame to let her know that I'm ready on my side, we discuss the details, a questionnaire to fill in and finally we set a date: September!
Obviously, between the beginning of December and the beginning of July, a certain amount of time has passed, and I've played a lot with Madame Inanna and Maîtresse Blanche. My relationship with these two Dominatrices has evolved a great deal, and now they know me even better, my desires, my fears, my inner workings, however complex they may be... So it's fair to say that the upcoming session is likely to be a spicy one for me. What's more, I had the opportunity to meet Maîtresse Syene in the evening, an incredible Dominatrix. Maîtresse Syene, whom I didn't know until the Kinky Saloon, made a huge impression on me, and I couldn't wait to get to know her better.
July and August have gone by really quickly, and here we are, the long-awaited month of September! It's been 10 months since my first e-mail, a long wait that's about to be rewarded. I still didn't know anything about what was going to happen to me, I was in total limbo, no information at all, an absolute mystery. And yet, I felt so good!
Part 2: My Kidnapping!
My kidnapping was scheduled for September 19/20/21. Rest assured, I wasn't kidnapped for three days... I just knew that something was going to happen to me on one of the three dates. Before September 19/20/21, I was away at Maîtresse Blanche's for her Milady weekend, so my week was going to be as busy as I like it.
Over the weekend, no information was sent to me, just a small box locked with a code. I won't be allowed to discover its contents until the 19th, with a code sent in writing - it's better to unlock the box, isn't it? Come on, this time we're there, there's no turning back, I'm arriving in Paris on the 19th in the early afternoon. Maîtresse Blanche had drawn up a schedule for me to follow to the letter for each of the 3 days.
I'd like to thank her for a superb, enriching and discovery-filled schedule. You can understand that they weren't going to let me do what I wanted for three days, so I needed a lot of rigor, discipline and, above all, stress management. What's more, when little 13 has no control...things can quickly get out of hand!
My carefree attitude? During the 3 days, I stayed in the Inanna Justice dungeon, where I only spent the night, the day being spent out in the four corners of Paris on my missions. I really enjoyed resting in the dungeon, which was welcoming, relaxing, soaking up the atmosphere and absolutely stress-free during those three days...
Let me explain the fabulous scheduling system: on Day 1, my schedule started at 3pm and ended around midnight (the time I arrived at the Justice Room in the evening).
visiting a monument in Paris, an exhibition, having a drink in a specific café, eating in a specific restaurant, everything was really calculated, whether it was the meal, the breaks, the places... I loved this control so much, so far into psychology. Every time I visited a place, I wondered if something was going to happen to me or not. What's more, and this is very important information, I was geolocated at all times, to assert even more control over me! I couldn't do anything without information being passed on to them. On day two, the adventure was repeated from 10am to 8pm, and on day three from 10.30am to 5.30pm. I was very controlled, and fortunately for me.
Shall we start the adventure?
Do you understand the rules?
Day one, it's 2 p.m., I'm sitting in a café with Alice (the BDSM frog) and we're...
discussing a variety of subjects, quite pleasant, not too stressful. We enjoy the moment before what awaits us next.14H30 still in the café, I open my box: I discover a chicken-shaped cuddly toy, this chicken will become a very comforting friend as my adventure progresses. What a fabulous idea, a chicken after all! Then it's time to leave, and everyone heads off for their own activities. I activate my geolocator, and it's time for my first activity at 3pm: a visit to the Shoah Memorial.
I took the time to enjoy the activity, taking in as much information as I could (you never know), and then taking a few photos with my doudou, which I had to send to the Whatsapp group created expressly for the occasion. The photos were compulsory, one more proof, one more check that I was doing my planning properly. After the memorial, it was off to my first break at 4.30pm, in the direction of a café. A moment of freedom, I was still allowed to choose what I wanted to drink. Don't worry, they're not that sadistic.
We set off again, visiting a BDSM boutique at 5.30pm. The saleswoman had been made aware of my visit, calling me a "sissy", but being nice, I left with a dress. On my way out, I hear a couple of men acting sissy as I pass. I don't quite understand the situation right away, but I continue on my way. Then at 6:30 p.m. a good meal, this time I had to buy nuggets! Can you imagine, a chicken doudou eating nuggets? What a funny idea. Oh yes, I know, I said "they're not that sadistic" above, but I was talking about the drink! The evening meal is different... You get used to it quickly you'll see, I too had a bit of trouble with the word discipline at first! And now I'm a little "disciplined", at least when I don't forget the word.
And the most important moment for me, the most stressful too, 7pm, appointment to a BDSM party, but not just any party! A party where Maîtresse Syene was present! So it's fair to say that up to now, I've been managing my stress, but now I'm not. Why this party? Anyway, I'm off. I introduce myself with my "I'm a sissy" entrance code, as I had feared, and I bump into Mistress Syene. My heart decides to play a game of Tam-Tam inside me. I was like a little snowman wanting to melt in the sun.
Mistress Syene laughs at the situation, then gives me a key and lets me go. Phew! I'm saved, but until when? I have no idea! I understand that the key will give me access to Madame's dungeon in the evening - great news, isn't it? My adventure continues, the last mission of the day, the easiest in my opinion (or so I thought)...I name the cinema!
I'm off to the cinema to watch a short film, as if the pressure of the moment needed to be relieved. The film starts and I get a cold bottle of water all over myself! Of course, I'm in a movie theater, so I can't do anything about it. I turn around, there's no one behind me, I really don't understand the situation any more, I turn around again, I hear doors closing. At the same time, I see men behind me with bottles of water in their hands. You'll find out at the end.
The water bottle on my body reminds me of my presence here in Paris, and I mustn't forget the constant pressure that's playing on me. The film ends well, with no further incidents, and I return to the Donjon.
Arriving at the dungeon was quite stressful for me, imagine someone standing behind the door? Well, fortunately there was no one inside, so it was absolutely quiet and we were able to get some rest. Moral of the day: a few stressful events, lots of walking, lots of questions, but a superb day! Oh yes, if you're going to be kidnapped, don't forget to bring some good sneakers! You'll be walking around Paris like a professional monument guide.
Day 2:
It's easy for me to fall asleep, as my day has exhausted me and so has the stress. I wake up early, go down to the little store downstairs and don't forget my comforter, which must never leave my side. I grab some breakfast and quickly head back upstairs. 8.45am, we set off for the start of our day, a photo exhibition at 10am. Above all, 13 mustn't be late.
I arrive in front of a sign that says "exhibition closed, only opens Thursday at 6pm" Hm, very good except that it's actually Wednesday at 10am! I'm not panicking at this point, although I am starting to panic a little, thinking: I've fallen into a trap! In the stress, an incredible movement comes to mind!
I sit down on the floor and decide not to move. Yes, you do what you can when you're stressed! I had put myself between two walls, no way of catching me! Not bad 13, eh? No, completely stupid, because Inanna will tell me to move to the park next door, a little country walk to calm my mind, not bad at all? I don't see any reason to stress...
Still on my guard, I decide to go a long way from the park entrance. You never know!
Finally, nothing happens, and 13 heads off to his next activity, an exhibition. A superb exhibition, by the way, thanks to my great planning, I'm discovering lots of things! Then it's off to a delicious restaurant - I must admit, I'm really enjoying the food, always in the company of my chicken. And we start the afternoon with another walk... in a cemetery this time, where I stayed for 2 hours. And I think at this point, I had an overconfidence (that I'll regret later) having fallen asleep between two tombs in the sun on the grass! I was so comfortable! You really mustn't do that... anything could have happened to me, such as being kidnapped?
I was in a good state of self-confidence, well rested, so I headed off to the next activity, taking a short coffee break - yes, I need to recover from my nap. In my head, I was thinking day two for the moment, nothing's happening, I'm managing the situation perfectly well all the same.
I settle down at the table, a truly atypical bar, it was absolutely unlike the other cafés I'm forced to go to, can you feel it? You might as well say exactly what I'm experiencing. But of course, 13, always confident, said yes, why not.
I receive my glass, a few gulps really excellent as a drink! I dip my head back into my phone, when suddenly I feel a hand holding me at throat level, with an arm wrapping around me. Oh yes, I knew exactly what was going on.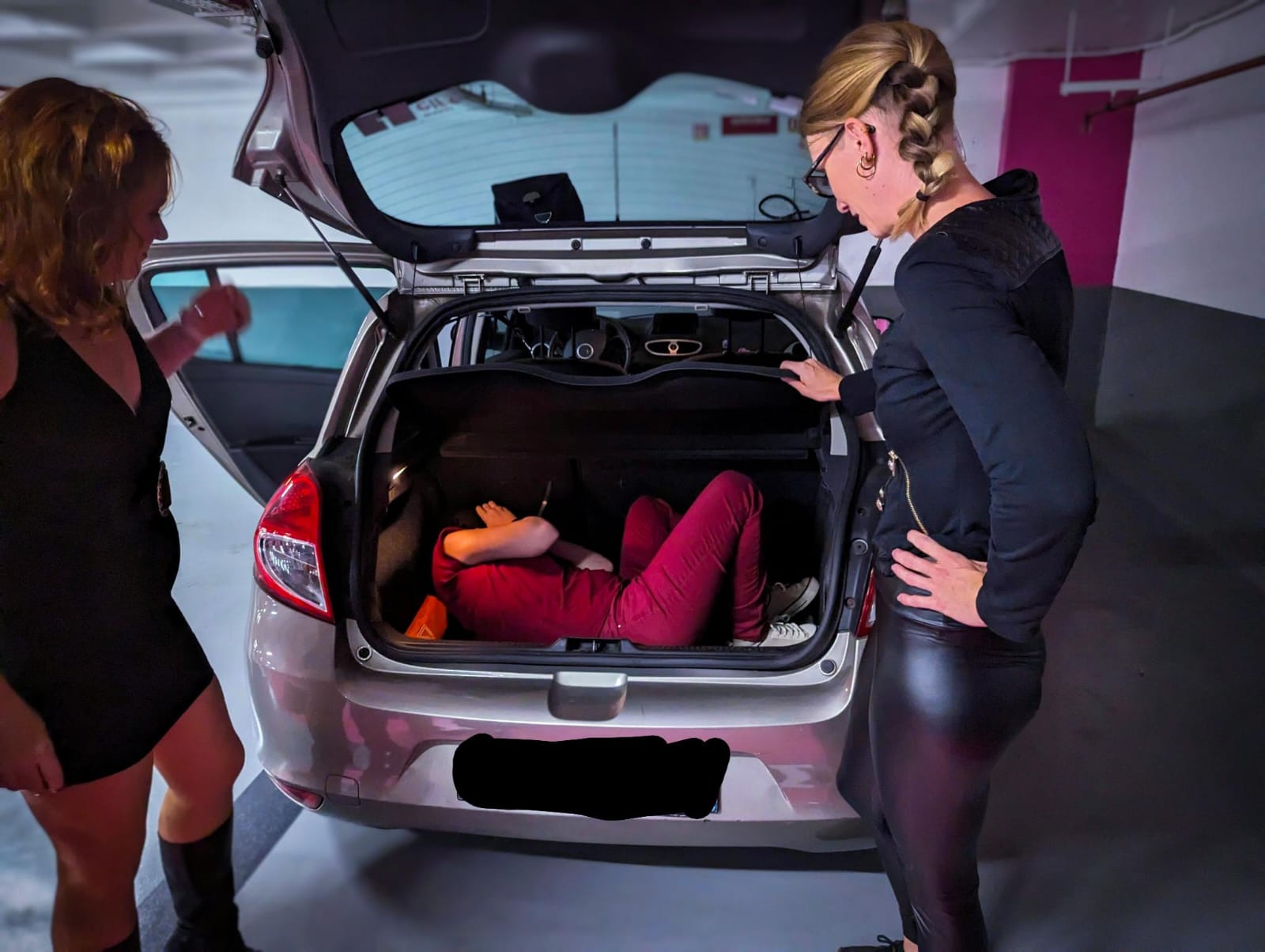 This was the moment, I was going to find out why I was there. I didn't have time to understand anything, it all happened really fast.
My belongings were quickly taken away, my glasses were removed, and I found myself with a hood over my head, barely having had time to say ouf! They get me up, pull me out, tie my hands and lead me out of the bar. A whirlwind of feelings begins to build up. With a touch of humor, I take the time to thank the bartender for the drink, which was really excellent! I know I was going to pay for that sentence.
I'm forced into a car, seated between Maîtresse Blanche and Madame Inanna, a blindfold added over my balaclava, I find myself in total darkness.
I'd been waiting for this moment for so long, and at the same time, I didn't have time to react to the situation. Anyway, there was no point in trying anything. We're talking about 13 here, so I'm a bit of a gambler, but I'm not suicidal!
I'm starting to get a bit of a kick out of it, slowly getting into the swing of things for what's to come, and I'm not talking anymore - I've never been so concentrated! The car starts, I have no idea where.
Psychologically, I'm in another world, and the remarks of my 3 torturers of the day only increase the pressure. That famous pressure I left at the bar! I didn't even have time to finish it. After a while, the car stops and everyone gets out except me and Inanna, who keeps me close.
Suddenly, I'm pulled out of the car. No, not yet. I'm tipped into the trunk before starting off again. I can't see anything, I can only hear a little, and yet I find my situation particularly pleasant, I'm well positioned in the trunk and, above all, I've made up my mind: what's going to happen next will be even worse! I might as well enjoy it.
In the trunk, they put an electric bracelet around my arm to keep me alive throughout the journey, according to my torturers. I even had the right to be refreshed with water on my little body. The car stops again, everyone gets out, I hear the doors lock. I'm alone in the trunk, I won't try anything, you never know. Besides, my electric bracelet often calls me to order, even from a distance. After a while, the occupants return and we're off! I'm always teased, but I really appreciate it.
And watch out this time, we stop for good, remove the hood, the mask and the electric bracelet. I'm told I'm to go through the seats to get out of the trunk; I'm not to make any noise, or even make any particular gesture, as I'm stopped on a busy road. I understand the information I'm being given. I'm left with my hands tied, though, as you never know.
I get out of the car, happy to be free (or almost), and Mistress Blanche and Mistress Syene receive me. They hide my hands with a jacket so I can't see the ties. I still don't know where I am now. Maîtresse Blanche steps forward, followed by Maîtresse Syene and then me (no one was holding me), when suddenly Madame grabs me by the arm and whispers "I know you". I feel her pressure containing me and pulling me forward helplessly. Even though the urge to flee had dissipated, Madame's little phrase made me smile.
Control again and again. We arrive in a hall, then I'm led down some steps with the great gentleness of Mistress Syene, who grabs me by the shirt to help me. At the bottom of the stairs, with a jacket over my head, I'm in the dark again. I'm jostled a little to move forward, and I can hear the creaking of doors. At last, I've reached my destination.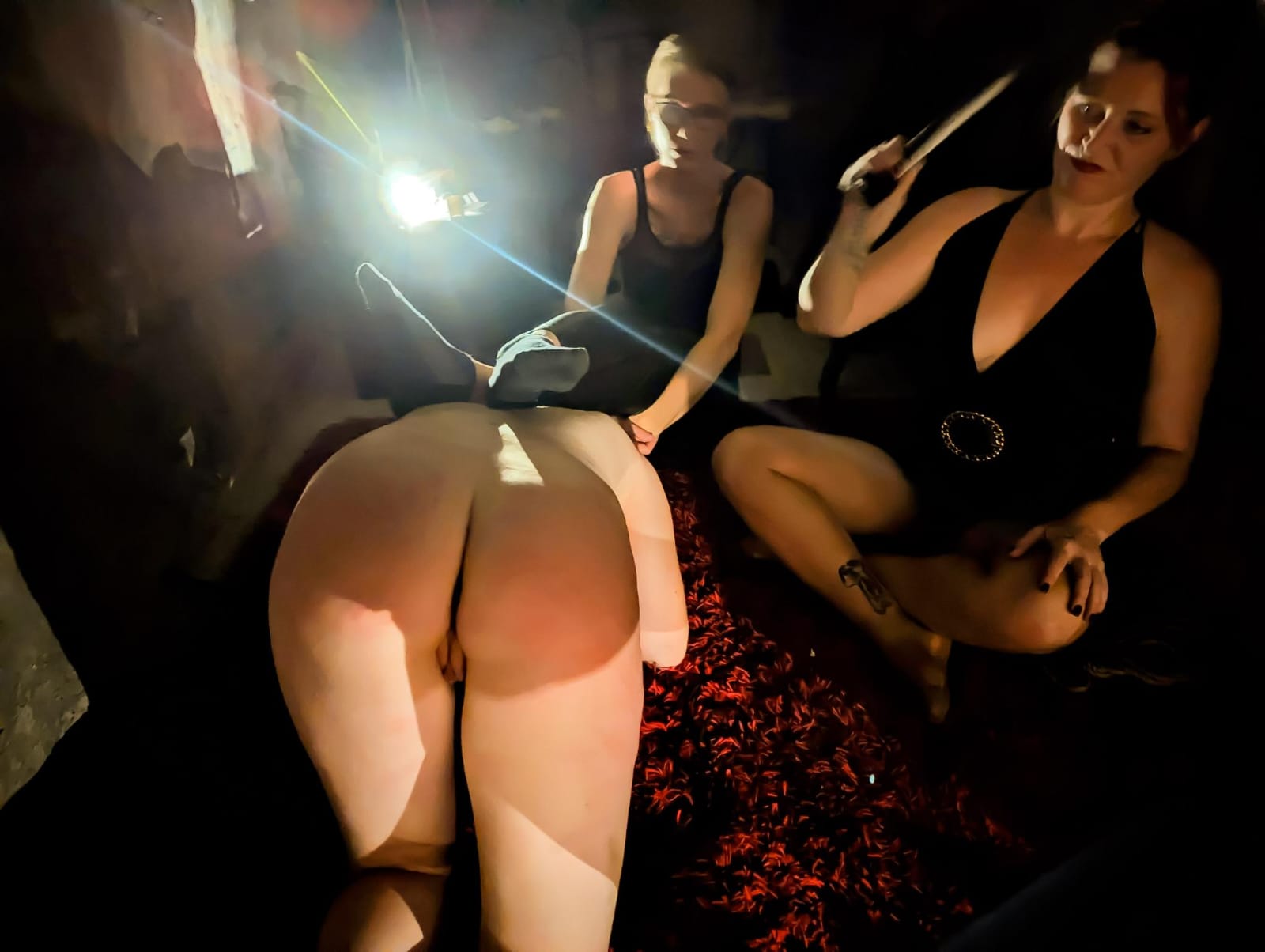 I'm quickly undressed, the punishment is about to begin? The jacket is removed from my face, and my hands are untied, anyway, at this precise moment, I couldn't go anywhere. I discover a beautiful cellar with instruments of torture hanging from it. Oh yes, I was going to suffer. I'm naked in front of three torturers, psychologically destabilized. I'm in such a weak and helpless position. I'm ordered to sing a song, I hate singing and dancing, I think for me it's one of the worst punishments there is. I'd rather suffer terribly than sing. There's no lack of that, and my failure to do so is quickly punished.
I'm in a lot of pain, feeling the blows raining down on my body as much as my cries of despair, yet I'm fine in this room, living the moment intensely, and I don't want to trade places with anyone.
I feel like I'm floating far away from the outside world. And this room, so dark, so intimate, only reinforced the feeling of helplessness that I love so much. Instead, I'll try my hand at the English alphabet with a really mediocre level. The melody of the blows goes on and on, and I don't know what to do or where to put myself to alleviate the ensuing screams. I stick myself against the wall before being quickly tied up.
After what seemed a long time, the orchestra of pain stopped, I fell to my knees, my body disconnecting completely. I've just experienced my first terrible, intense and profound moment of connection. For me, pain is a memorable dance that has just finished its first beat. I feel like a senseless puppet. I'm asked to get down on all fours and not move. I do so, then a rope invades my mouth, blocking it and my eyes.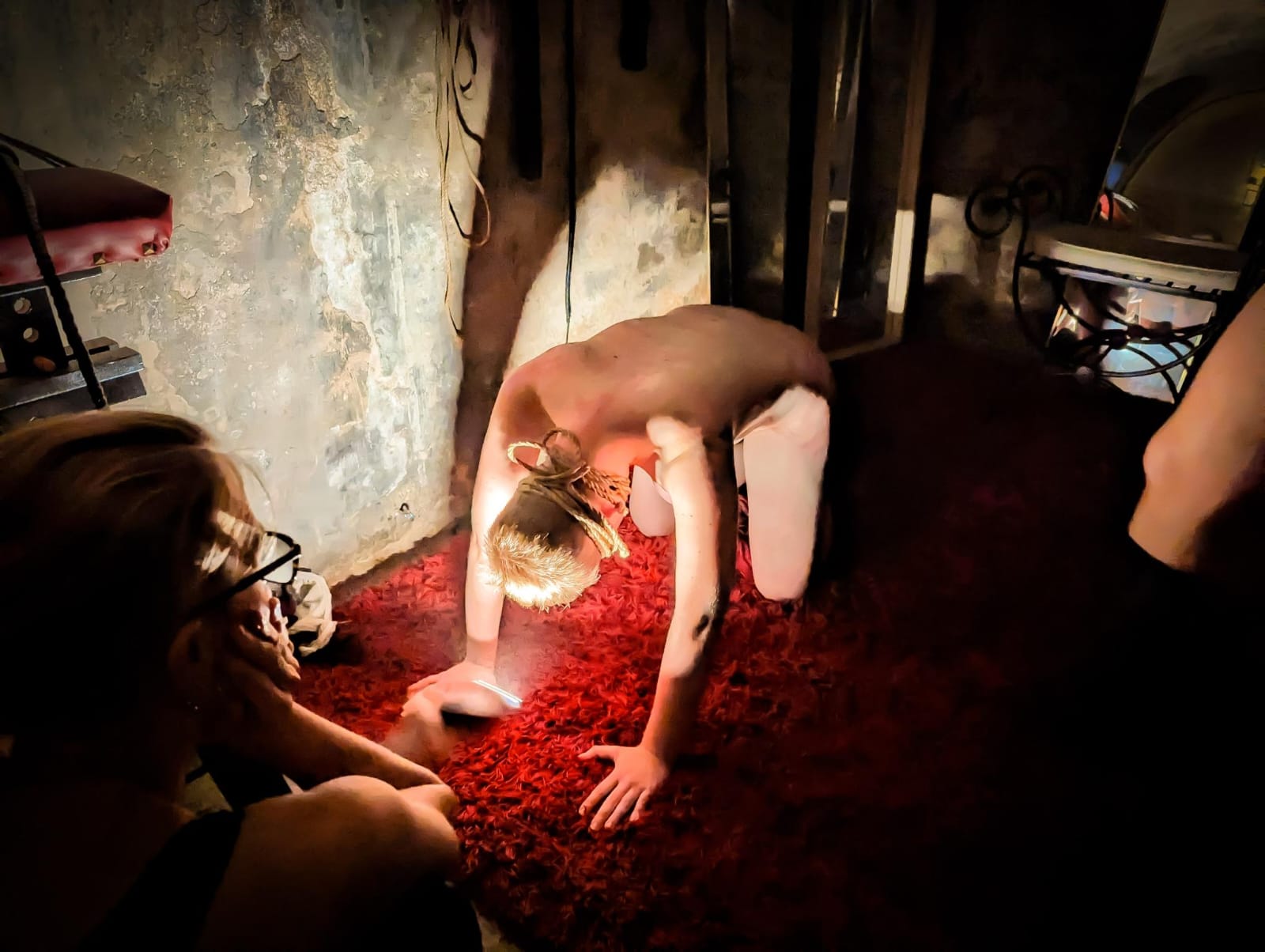 I remain in this position, hearing footsteps towards the exit, and the door closes. Some time later, a lot of noise is heard, the three ladies playing with light and noise. The gate opens, and I hear it creak. I still haven't moved, so why take an unnecessary risk?
Maîtresse Blanche plays with a spider on my body, while I decompose like an icicle. I'm placed on various instruments, the impact resumes, I suffer, I melt with pain and torment.
The three great ladies are putting on a magnificent concert. I manage to surprise myself by surpassing myself in pain. My body burns terribly, and yet I don't want this situation to end. I plunge my gaze into Inanna's, I don't want to stop looking at her, I'm so grateful for this moment. Her intense gaze brings me so much comfort.
Once I've had my fun, I'm untied, on my stomach on the floor with my hands behind my back + my feet tied, the infernal melody of pain resumes with a gag in my mouth.
I completely lose track of the game, I'm just fine, I'm undergoing a lot and yet I'm on the wonderful cloud of hellish pain. Until that moment, totally disconnected, a body transcended by torments, attachments...I manage to turn onto my side as the last reflex of my body that I have left in me. A last will? Perhaps.
I turn to the side where my Mistress (White Mayoress) is standing as a last reflex of protection, which my body transmits to me. I rest my head on her leg, gazing into her eyes. This moment of intense connection was one of the most beautiful for me during the session. I'm untied and left to take a short break. I look with a smile at Mistress Syene, so involved in her work, she's terribly impressive. She makes me smile, I admire her a lot and take the time to look at her.
To end this concerto, I'm on all fours, staring down, as the final bouquet is announced. I can't remember how long this final bouquet lasted, as I've gone somewhere else entirely, but I do remember letting go of my SafeWord for the first time at this moment, I'd reached the end of myself, I was beaten down and beaten up at the same time. I lay on the floor, a wreck stranded by pain. I feel my body burning, I have no reflexes, I lie motionless.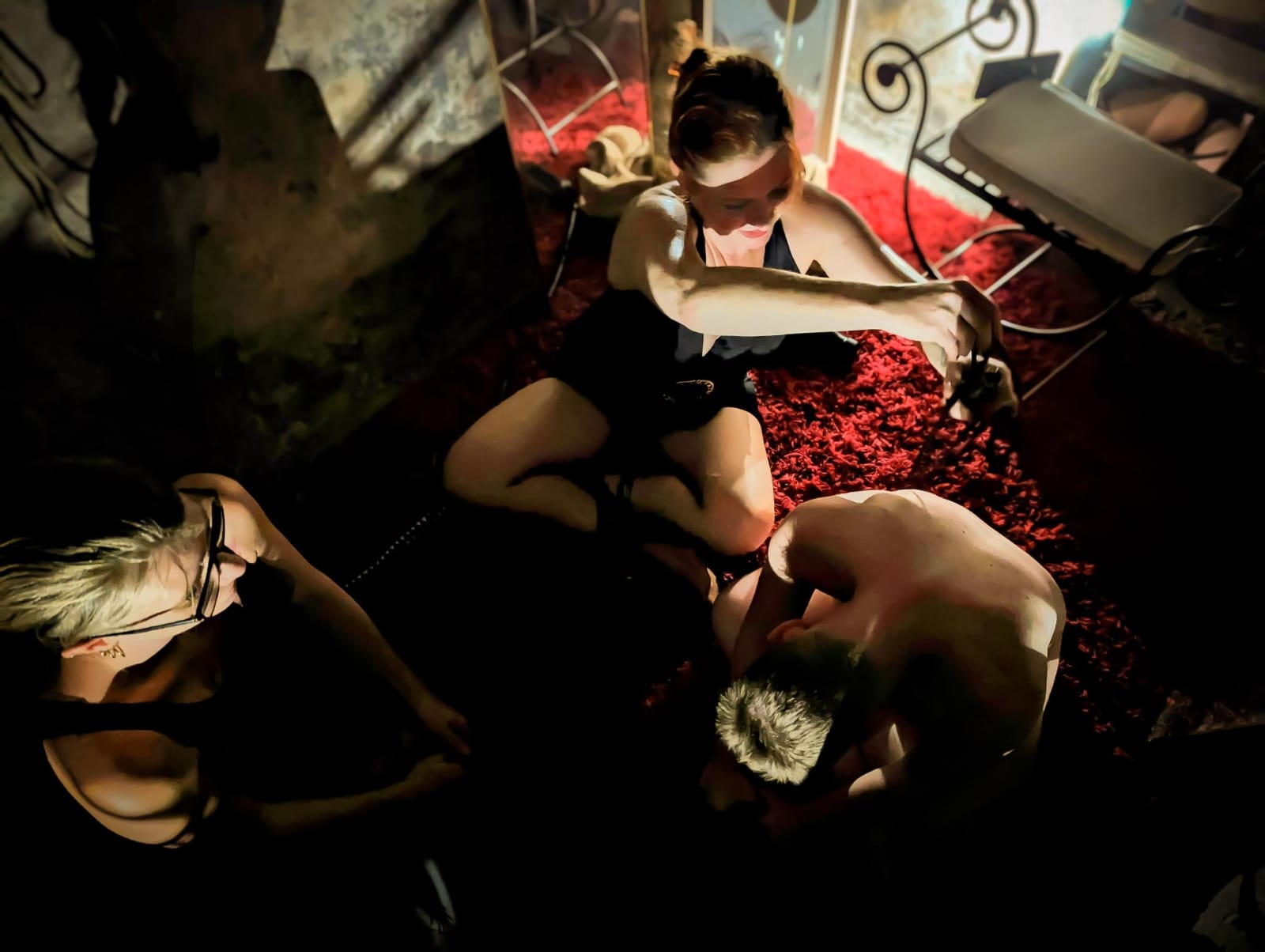 It was such an incredible moment, so intense, so wonderful to experience. The three torturers were satisfied, they wanted to get to the point where I used my safe word. As someone who rarely uses it, it was a magnificent victory in both senses of the word. I was then gently helped to reconnect, and a few gentle words and tender gestures accompanied this memorable end to the session. I could hardly sit down after that! To reconnect, we went for a drink straight afterwards.
I'd really like to thank my three torturers for this fantastic, intense adventure that I'm going to keep in my head for a very long time. A project that just came to fruition extraordinarily well. And thanks to the kind gentleman who lent and drove the car like a professional!
I'm so happy to have been able to bring this project to fruition after many long months, I'm young and yet I'm living a terribly exciting BDSM. And as I often read, luck? Yes and no, a lot of submission and dedication to get to this point.
I experienced a memorable kidnapping thanks to the absolute trust I placed in these three great ladies, and I have absolutely no regrets. And I'd take the same names again, with my eyes closed! But this time, I won't be caught!
Following our drink, I learned that I'd be taking part in the special underground session the following day, knowing that I'd already planned the Kinky Saloon for the following evening, which meant that my last day was going to be just as busy as this one, and even more painful. I love learning and developing my masochistic side.
My last day ended on the 21st with a beautiful walk underground with Mistress Syene and my Mistress (Mistress Blanche) and in the evening at the Kinky Saloon under Inanna's aegis, I proudly wore for the first time my necklace given to me by Inanna.
And yes, as I said at the beginning, my relationships have changed a lot!
So when do we start again?