Do you dream about going to a gathering of 20, 30, 40 or more people where you can discuss BDSM in a safe and open-minded environment? While COVID has put a damper on group activities for the time being, it won't be long before we can again get together with our friends. Here are a few things that you should know before attending your first munch so that you and everyone around you has the best time possible.
What's a munch anyways?
Munches are events where you go to a café or restaurant to meet like-minded kinky people, but not to play. Generally, we eat a meal together, have a drink or two, and chit-chat. Sometimes there are activities to help break the ice and get the conversation going between participants. Most munches are open to the public, but it's always a good idea to let the hosts know that you're coming in advance in case there's a restriction on the number of people in the location.
While there will be a mix of Dom(me)s and subs, there is no D/s protocol. That's to say that, if you're a sub, you're not going to be running around fetching drinks for people all night long (unless you actively want to be doing so). Dom(me)s shouldn't expect that people that are not employees of the establishment offer them service of any kind. If you're submissive, the only thing that's expected of you is to be courteous. Actually, that goes for both tops and bottoms!
Why go to a munch?
Munches are a great place to meet people in the community, be that to play with later or just to have some support while you're learning more about BDSM. I always encourage my subs to attend to meet other submissives and create relationships where they can share their stories openly. Having a support network is so helpful when you're asking questions about your sexuality and desires.
Don't go to a munch expecting to meet your dream Domme. If she is there, casually exchange a few words to get the conversation going and see if she's open to discussing more. Don't be overbearing and expect that she wants to spend the evening only with you. She's there to catch up with friends, too.
Attending a munch can be a good first step before going to a play party. Once you've met a few people at munches, you can ask advice about which parties are best suited for your desires, and perhaps even find a group to go with.
It can also be a good meeting spot for someone that you've been chatting with online. If they don't show up for some reason, there are plenty of other people that you can talk to.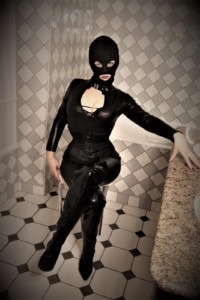 Rules at a munch
Most munches are open to everyone, although there are some that have specific purposes. In Paris, there is JPK (Jeunes parisiens et kinky) for people under 35. Other munches are restricted to female Dommes, others are only for submissives. Make sure that the munch that you're going to attend is appropriate for you.
Be sure to thoroughly read the rules of the munch before you show up. Photos are generally not allowed. Not everyone is "out" about being kinky, so even if you're tempted to snap a selfie with a hot Domme, curb your desires and keep your phone in your pocket.
Titles such as Mistress or Sir are generally discouraged at munches unless you're already in a relationship with someone. It irks me when an unknown sub comes up to me and calls me Mistress (you can read my article on the many reasons I don't like it). We usually have name tags with the name that we want to use during the event. If you happen to know that someone's real name is different than the one on the name tag, please refrain from using it.
Don't touch anyone without their permission at a munch (or anywhere, for that matter). Again, this is not a play party, it's an opportunity to meet people and discover. Something that I love about the kink community is that we often ask each other before hugging/kissing. Not everyone has the same comfort level with physical touch, even if you might think it's innocent.
Don't be creepy. Don't follow one person around all night because you find them attractive. No means no. Be aware of body language. These are general life skills, but they bear repeating.
Anonymity and discretion
It's possible that you may run across someone you know at any of these events, but they're there too, so don't fret. The BDSM community is generally very discrete. Part of what we advocate for is that we're not judged for what we do behind closed doors, so if you do bump into your cousin or your boss, chances are that they won't be spreading gossip about where they saw you.
Most munches have a dedicated room in a restaurant where the public can't access the event, but if that's not the case, be discreet in your conversations. No need to be screaming about the amazing session you had the night before, divulging all the details of your naughty games.
Of course, you should keep the same thing in mind if you see someone that you know. Avoid conversations about how you know each other if you can. If it's awkward for you, simply wave hello from across the room and avoid speaking to them if that feels like the best solution.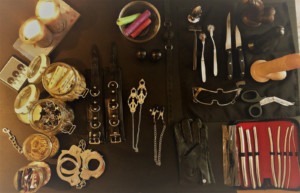 General courtesy  
Be mindful that the restaurant staff is generally quite busy on Munch night. At the PariS-M munch there can be upwards of 50 or 60 people. Be patient with the staff that are there to ensure you're having a good time. As a former restaurant worker, I can tell you that the people that complained loudly to their table neighbors got a lot less attention than those that said please and thank you a lot.
If someone is bothering you, let the organizers know right away. They are there to be helpful and ensure that everyone is respectful and having a good time. We would much rather hear about a problem on the spot rather than learning later that there was inappropriate behavior.
How to dress for a munch
If you were to wander into a munch unexpectedly, you might just think it was a company party or a class reunion. People are dressed in everyday clothes; you won't see men on leashes and women dressed in full latex catsuits. Some submissives will be wearing their collar, but that's about the kinkiest attire that you'll see.
Dress as if you're going to an evening out with friends, or perhaps a little fancier if that's your thing. I generally wear a pretty dress and heels, my male dates usually wear a nice pair of jeans with a button up shirt and dress shoes.
Final thoughts
Try to meet both Dommes and subs while you're there. Be open-minded and recognize that we can all learn from each other, regardless of how you identify.
Have fun! We're just a bunch of kink-loving perverts who want to socialize. If you go into it with an open mind and keeping these tips in mind, you'll have a great time.
For a more intimate look at my magical world, sign up to my OnlyFans or AVN. 
If you enjoy my articles, feel free to share them on social media. You can follow me on Twitter to hear about my BDSM adventures on a (nearly) daily basis.