Getting Started in BDSM: essential toys
Are you just starting out in the marvellous world of BDSM and overwhelmed by all of the intricate toys that are available? I wrote an article on household items a while back, and I invite you to re(read) that if you haven't already. You've played with laundry pegs, ice cubes, and other things that you can find around the house, and now you're ready to start investing in some BDSM gear. Here's a short list of my recommendations. 
As I've said many times in my articles, it's always better to invest in quality rather than quantity. Make sure you're using body-safe toys (surgical steel, medical-grade silicone, etc.). You'll be much happier to have a few quality items and not a drawerful of crap that you're not proud of (and that can potentially be dangerous).  
That said, some of these items are really inexpensive on sites like AliExpress/Wish. More on that as you continue reading. 
Don't forget about hygiene! Wash your toys before and after every use, even if you only have one partner. Use a medical-grade cold sterilising solution to ensure that everything is as clean as possible. Condoms are relatively cheap and help save time with cleanup. Don't be shy using them. 
Without further ado, here are some recommendations on BDSM basics: 
Sensory play toys
Sensory play can range from a feather brushing across the skin to more intense electric stimulation. There are really endless possibilities, and I love to watch the goosebumps appear when I do sensory play. 
One of my favorite all-time toys is my Wartenberg wheel. Actually, I have a collection of them because I love them so much. It was initially designed as a device to test nerve reactions, but is now a commonly seen object in BDSM kits. Depending on where you use it and how much pressure you apply, the sensations range from a little tickle to quite painful. 
Collar and leash 
A staple in any BDSM kit. Placing a collar on your sub can be a very intimate moment, a physical symbol of the bond between the two of you, be that for an hour or for a lifetime. 
It can also be a good way to signal to your partner that it's play time, much like when we put on beautiful lingerie (yes, men can wear lingerie, too!), light candles, and put Barry White on the stereo. It's a way of communicating to your partner that you would like some naughty time. 
During play, a collar and leash can be a practical way to direct your sub around the dungeon. Depending on the force you use (and the type of collar), it's quite effective.
I often use collars for predicament bondage, where my submissive is forced to, for example, stand on their tiptoes or risk having the discomfort of the collar pulling tightly around his neck. BEWARE, this is potentially very dangerous and you should not do this unless you are fully aware of the risks. 
Collars and leashes lend easily to pet play, one of my favorite things recently. Bark, boy! 
Impact toys
It's no secret that I'm a sadist, so these are perhaps my favorite instruments. I have a huge collection of crops, tawses, floggers, canes, paddles, whips, and other devices to hit you with. 
I highly recommend Caresse de Cuir who makes a variety of beautiful impact toys. You can find my Wishlist on their site if you want to contribute to my ever-growing collection. 
This is one department that I would really recommend you buying the best quality you can afford from the get-go. You'll likely be very disappointed if you order from some random mass-produced website. 
Penetration toys 
I love my huge collection of dildos, but not everyone can afford to purchase (and store) so many. 
Butt plugs, often called rosebuds, are great fun. There are many types, including connected plugs that can be controlled with an application or set to music. 
Again, be sure that you're purchasing things that are body-safe and be sure to clean them properly between uses, even if you only have one partner. 
Gags 
Who doesn't love a gag? At the very least, it muffles the pleas of a suffering sub. Depending on what type of gag you use, it can restrict breathing (again, be very careful with this type of edge play), provoke salivation, or widen the mouth to insert other things such as my lady cock.
I can't say it enough: buy quality. This thing is going into your body and you need to be able to thoroughly clean it between uses. 
Hoods/blindfolds 
Here is one area that you don't have to invest in expensive items, although you will likely find yourself doing so as you become more and more experienced with sensory deprivation. 
I have a bunch of lycra hoods that I purchase off of sites like Wish or AliExpress. They're inexpensive, I can wash them in the machine at high temperatures, and when they get worn out, I just throw them away. 
Of course, I also have leather, latex, and faux leather hoods, but I love sensory deprivation and always want to have many options available. 
Same with blindfolds. You can use a scarf or a sleep mask if you're just starting to build your collection, or you can invest in intricate leather blindfolds that keep all the light out. 
Restraints 
A sturdy set of leather (or vegan leather) handcuffs and ankle cuffs are indispensable in your BDSM toolkit. You can attach limbs together or to the wall/ceiling, place your sub in uncomfortable positions, or simply ensure that they won't wiggle around too much while you're playing with them. I am not a fan of metal handcuffs as they can be really painful, and not in the good way. Leather is sturdy and generally won't leave marks even when playing rough.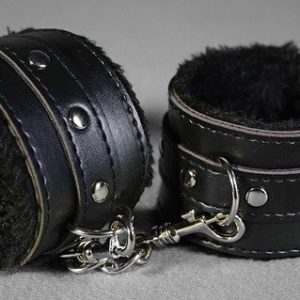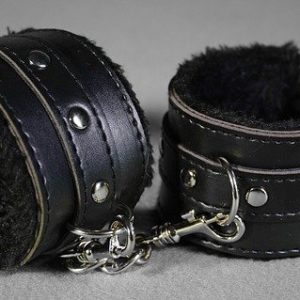 Nipple play 
This is another thing that you don't necessarily have to spend a lot of money on at first. You can find decent nipple clamps on Wish and AliExpress to begin. There are a variety of styles, including the popular Japonix style, or with two metal rods that you fasten together with rubber bands. 
If you're into extreme nipple play, you can find weighted nipple clamps on BDSM specialty sites. 
Final note 
You can build a good collection with a limited budget, but always be conscious of items that are being inserted into the mouth, anus, or vagina. If you don't have an autoclave, use a product like Steranios for cold sterilisation, available on any medical supply website. 
Above all, stay healthy and keep it kinky! 
Share my articles on social media!